About Us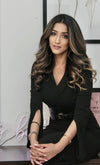 Divya Aggarwal believes in walking on a less traveled road. Hence, she brings an eponymous fusion label for you.
A dreamer, thinker, designer, and creative director at Kazo Brands. Over the course of 5 years, after maintaining the feminine essence of Kazo, the edginess of KZ07, and the eye for Details By Kazo, Divya has now dwelled into the couture fashion world.Over time she enhanced her avant-garde sensibilities by exploring the nuances of global fashion and building a repertoire in styling.

Since childhood, Divya's life was embellished by the glam of fabrics, designs, and everything fashionable. Divya's ethos for fashion led her to explore fine art in her high school education at The British School, New Delhi. To further push the boundaries of the fashion world, she pursued BFA from Parsons Of Design, New York City, with a major in Fashion Designing and a minor in Design Management.

The way Divya perceived fashion from a young age formed a distinctive yet utterly chic style that ignited her passion for exploring new sides of the fashion market. Hence, she wanted to parade out the unique and new sides of the fashion world in her brand; Divya Aggarwal. The idea behind this label is to push away the cliché trends and infuse contemporary sartorial interpretation in traditional fashion with Divya's unconventional designs. She aims to let the fashion lovers be as experimental as they want. Divya plans to step into the slow fashion world with designs that address mass fashion needs while standing out.

The crux and essence of the label, Divya Aggarwal, is to challenge and revamp the face of ordinary traditional wear while being customer oriented. Driven by the values of individuality and creativity, this contemporary Indian couture offers the flair of lehenga with the modern vibe of the corsets. Be it to fulfill the need of the occasion or to satiate personal style, Divya Aggarwal features a plethora of colors, designs, and prints. Every capsule of the label has multiple options that can be effortlessly repeated in versatile ways and worn for years, thanks to its classic designs and top-notch quality!

This luxury fusion label injects a sense of craftmanship and uniqueness from a starting price of INR 36,000 and goes up to INR 3,160,00 with the promise of premium. Every capsule you touch has a little bit of everything. The brand features a personal yet unique twist for the customers while maintaining the honor of being a designer label.
The peculiar prints, heart-stealing hues, and visionary designs will make every day a special occasion. While evoking the very spirit of India with blouses, lehengas, and traditional adornments, Divya Aggarwal also hinges on western modernity with fusion skirts, corsets, and jackets.
The alluringly crafted creations of this label are here to reign the crown of many firsts with urban relevance and Indian timelessness!